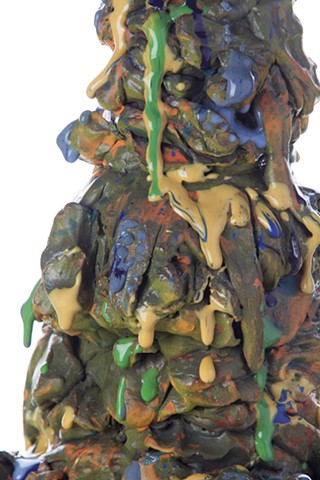 Form as body/surface as skin. I consider the ceramic object to be not just about formal considerations, but my lived experience in the world. My forms and glazes carry with them an investigation of my own place and identity. Furthermore, I view the object as a vehicle for contemplation—islands to rest and experience wholly. I am seeking for a truth and honesty within my practice.
Using the ceramic process, the discovery of the technique of throwing clay allows me to work out negative experiences: physical pain, anxiety, depression, and anger that I have struggled with for many years. The making process has become a meditative and healing act, bringing me happiness. I have begun to hone into the visual-qualities of things related closer to my own identity: colors of the 1980's, processed and artificial foods, music as vision—in an attempt to incorporate their surfaces into my process—and to evoke an appetite out of the unappetizing material that is fired clay.
The studio has now become a safe place for me to play with the materiality of clay, while working through these numerous aspects of my life. My lived experience has made me tired and weak, but the act of creation breathes new life into my soul.